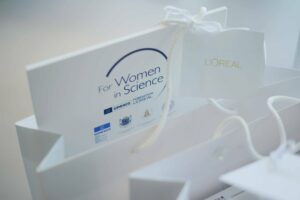 A true celebration of women in science and gender equity took place in Riga this Tuesday. During the L'Oréal-UNESCO "For Women in Science" Young Talents Program
Baltic award ceremony, at extraordinary premises of RTU, we celebrated the Young Talents of 3 past editions of the Baltic FWIS regional program. 21 wonderful talented women scientists have been recognized – their innovative research brings solutions across disciplines to better our future.
The ceremony was remarkable in many ways – a wonderful occasion to unite all the talent and to celebrate our commitment as we stand strong in our conviction that world needs science and science needs women.
Congratulation to all the winners of the program – exceptional women who are the very future of science.
We need everyone involved to advance on equality and change the game. We are implementing "For Women in Science" program in Baltic countries thanks to exemplary and precious partnership the National Commissions for UNESCO and Academies of Sciences of Estonia, Latvia and Lithuania. This collaboration has been a key factor for success during all these years and we are honoured to continue these commitments in the future. –
THE WORLD NEEDS SCIENCE AND SCIENCE NEEDS WOMEN!